Congrats! You've Earned This!
Deckorators® Certified Elite status is our highest recognition to a select group of Deckorators Certified Pros for volume, quality, growth and partnership by market. Elite status is achieved annually and comes with exclusive benefits including an expanded service area, priority for leads, marketing collaboration opportunities and much more!
Download one of the following Certified Elite logos and add it to your website to show off your achieved status proudly!
Logo Options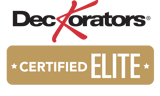 Deckorators prides itself on consistency in our print and digital marketing materials. The Deckorators logo and tagline may be taken apart and used separately, but the preferred treatment is to maintain the graphic lockup when space allows. When used together, the given configuration is fixed and may not be altered. When using the logo at a size less than 1.25-inches wide, the tagline must be removed to maintain maximum legibility. Additionally, the logo and tagline must be separated from all other graphic elements by a clear space, or buffer area, equal to the height from the base of the "o" to the top of the "k" around all four sides.
DDeckorators Logo Options
Restrictions
Do not stretch or distort the logo in any way.
Do not substitute any other colors for the approved logo colors.
Do not embellish the logo with a drop shadow or any other effects.
When placing the Deckorators logo over an image, the background must be uncluttered.